CMZ SISTEMI ELETTRONICI
Established in 1976 focusing on the production of controllers & drives, today the company offers customizable motion & control solutions including the systems design, the electronics programming, the development of ready-to-use motion & application libraries and ad-hoc softwares, alongside with a wide selection of master controllers IEC61131 up to 99 axis, servo drives, brushless and stepper servo motors up to 120 Nm strictly compact and Made in Italy, peripherals and I/O modules both digital and analogic,HMI operator panels.
SYSTEMS & SOLUTIONS FOR MOTION CONTROL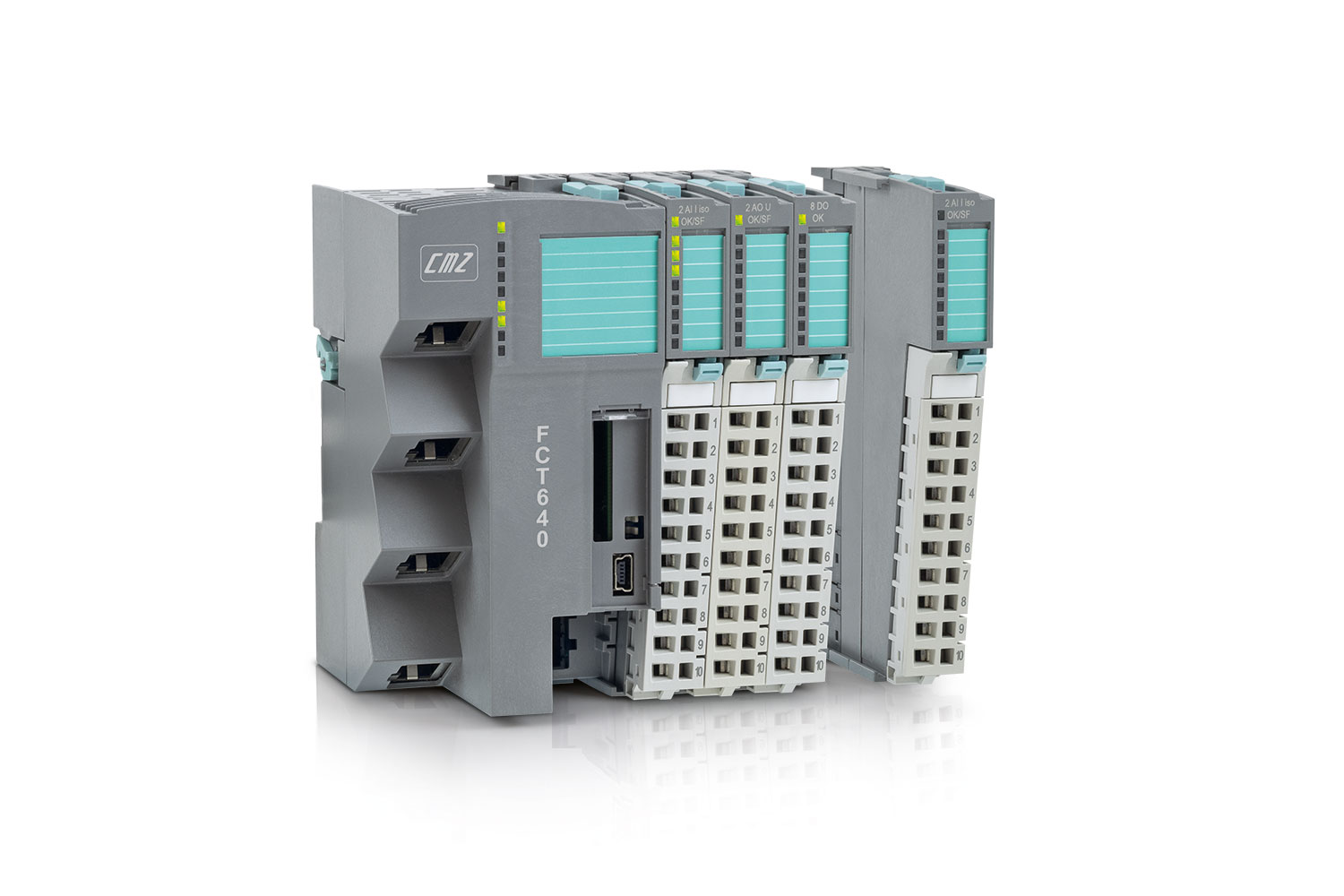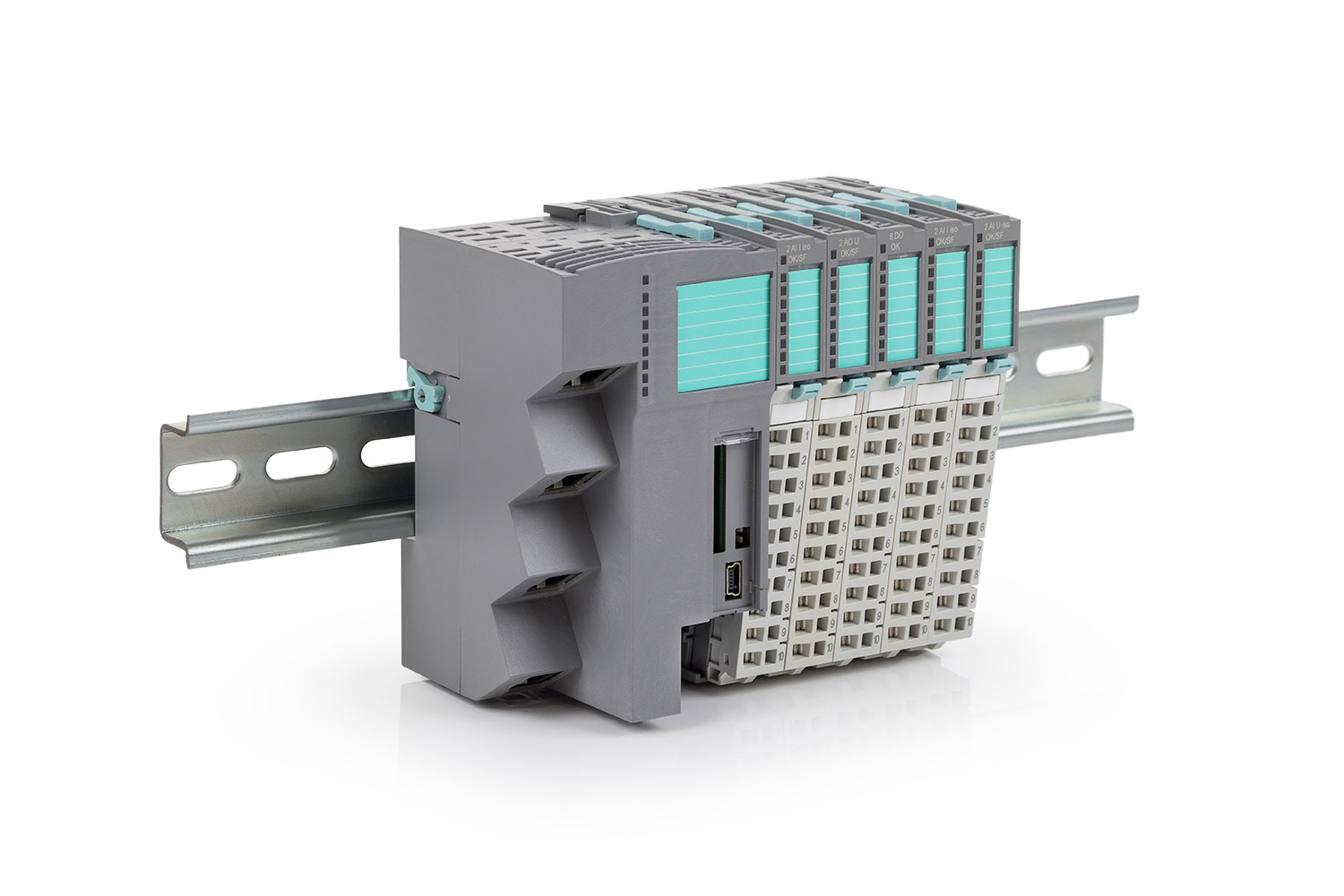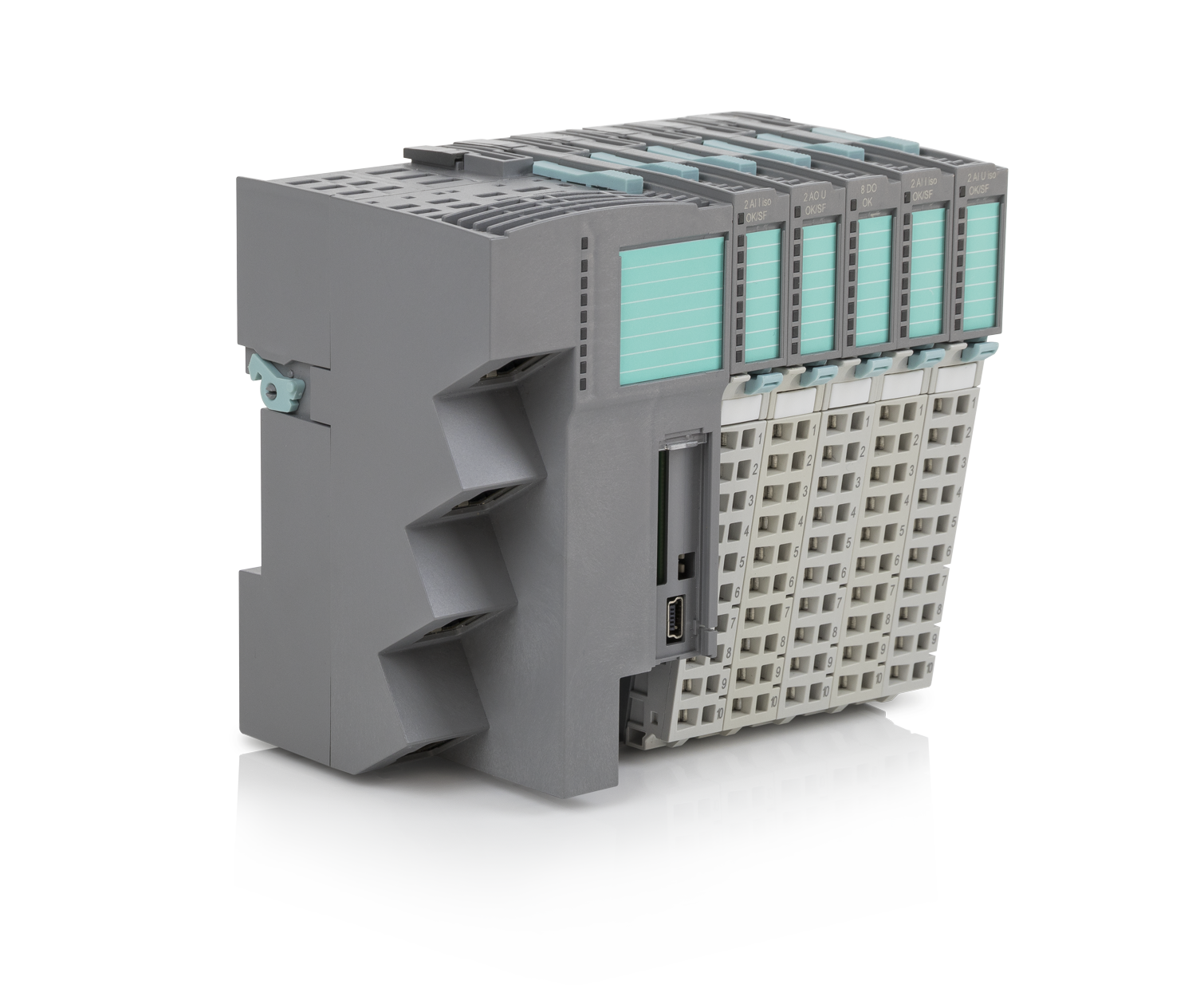 MODULAR MASTER CONTROLLER FCT640 – FCT641
For industrial motion control solutions into a single and compact technological device, CMZ Sistemi Elettronici provide FCT640/641 programmable plc controllers: new generation, modular, compact and high performing systems based on CODESYS 3.5 with integrated I/Os.
The controllers are equipped with all the field buses used in industry (EtherCAT, CANopen, ModbusTCP) and integrated modular I/O units, both digital and analog.
MASTER CONTROLLER FCT200
It is a high performing, hard working solution for multi-axis control up to 8 axis.
FCT200 is equipped with 1 or 2 CAN ports.
It can also be equipped with PROFIBUS/IO port.
FCT200 can be managed by IEC61131 development environments:
CODESYS
4 CONTROL proprietary environment developed by CMZ, equipped with 5 program languages (Structured Test, Instruction List, Function blocks Diagram, Ladder Diagram, Sequential Flow Chart).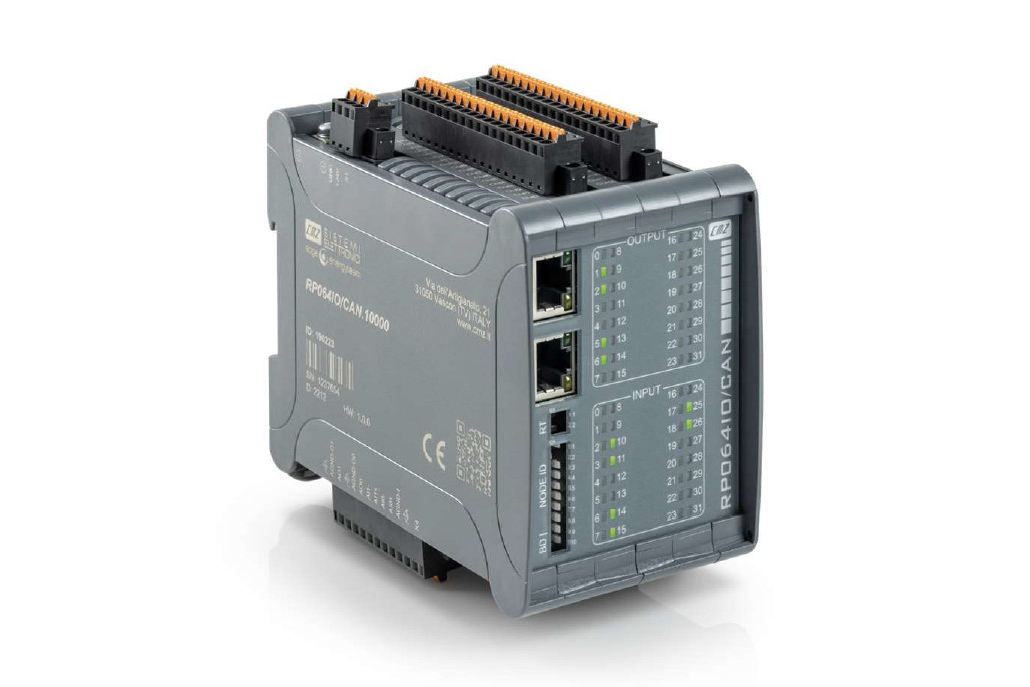 REMOTE PERIPHERAL 32+32 INPUTS/OUTPUTS 
RP064IO peripheral manages 32 digital inputs with integrated functions for incremental encoder and counters, 32 digital outputs, 2 analog inputs and 2 analog outputs, with CAN fieldbus and CANopen DS401 protocol.
RP064 I/O is used as:
CANopen peripheral for FCT series controllers (FCT640, FCT300, FCT200)
CANopen peripheral for expansion of servo drive SBD in PLC version
CANopen peripheral for other-branded controllers with CANopen fieldbus (EDS file).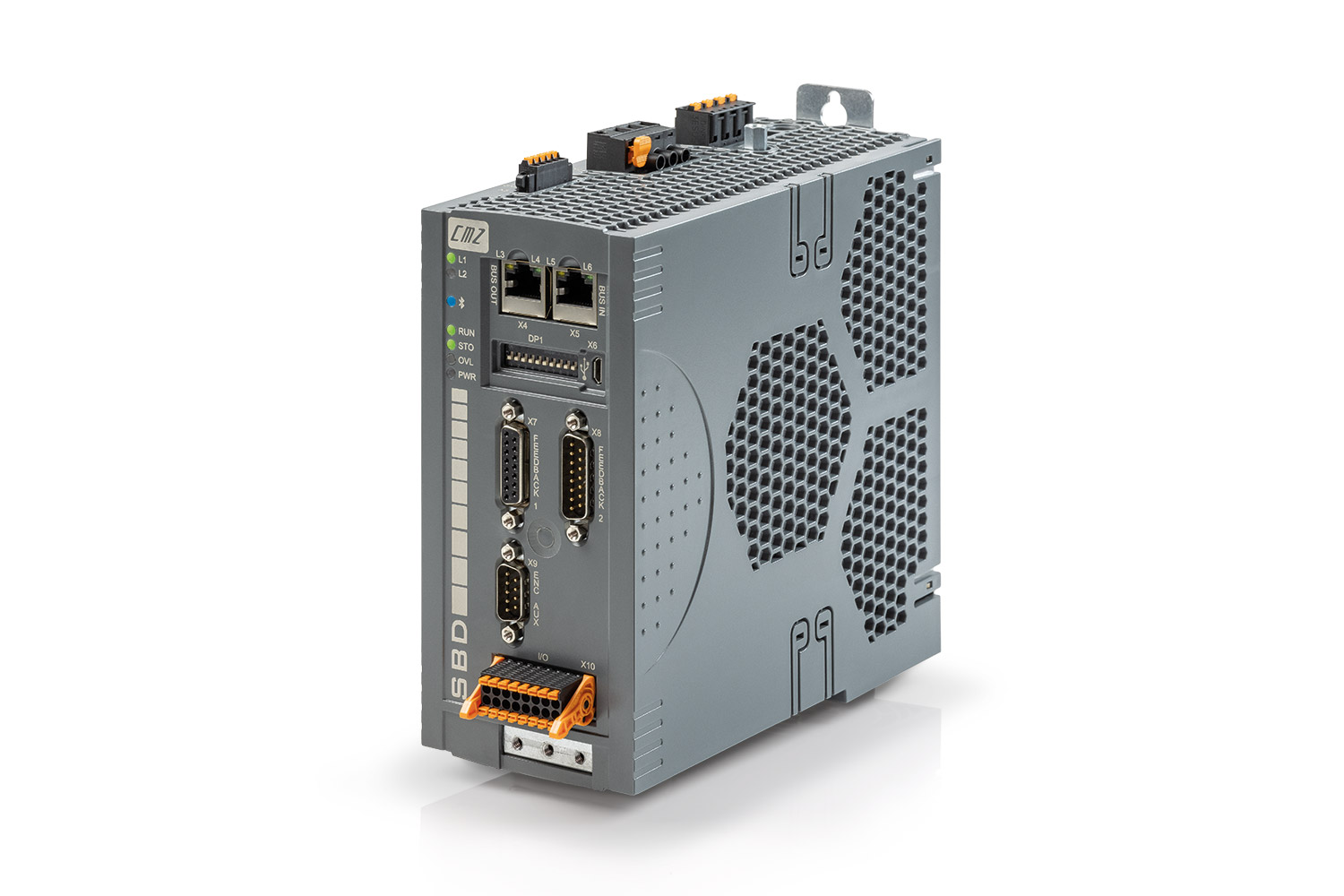 BRUSHLESS STAND ALONE SBD 400/230
400/ 230 Vac
5 A SIZE M
10 A, 20 A SIZE L
5 A, 8,5 A – SIZE M
BRUSHLESS SMART DRIVE STAND ALONE SBD/PLC 
All versions of SBD drives have an integrated PLC IEC-61131 which allows to customize the behavior of the drive and decentralize the machine automation.
SBD/ PLC, programmable in IEC-61131, is very powerful and ensures the management of axis motion and of local I/Os, as well as the management of remote axes and I/Os.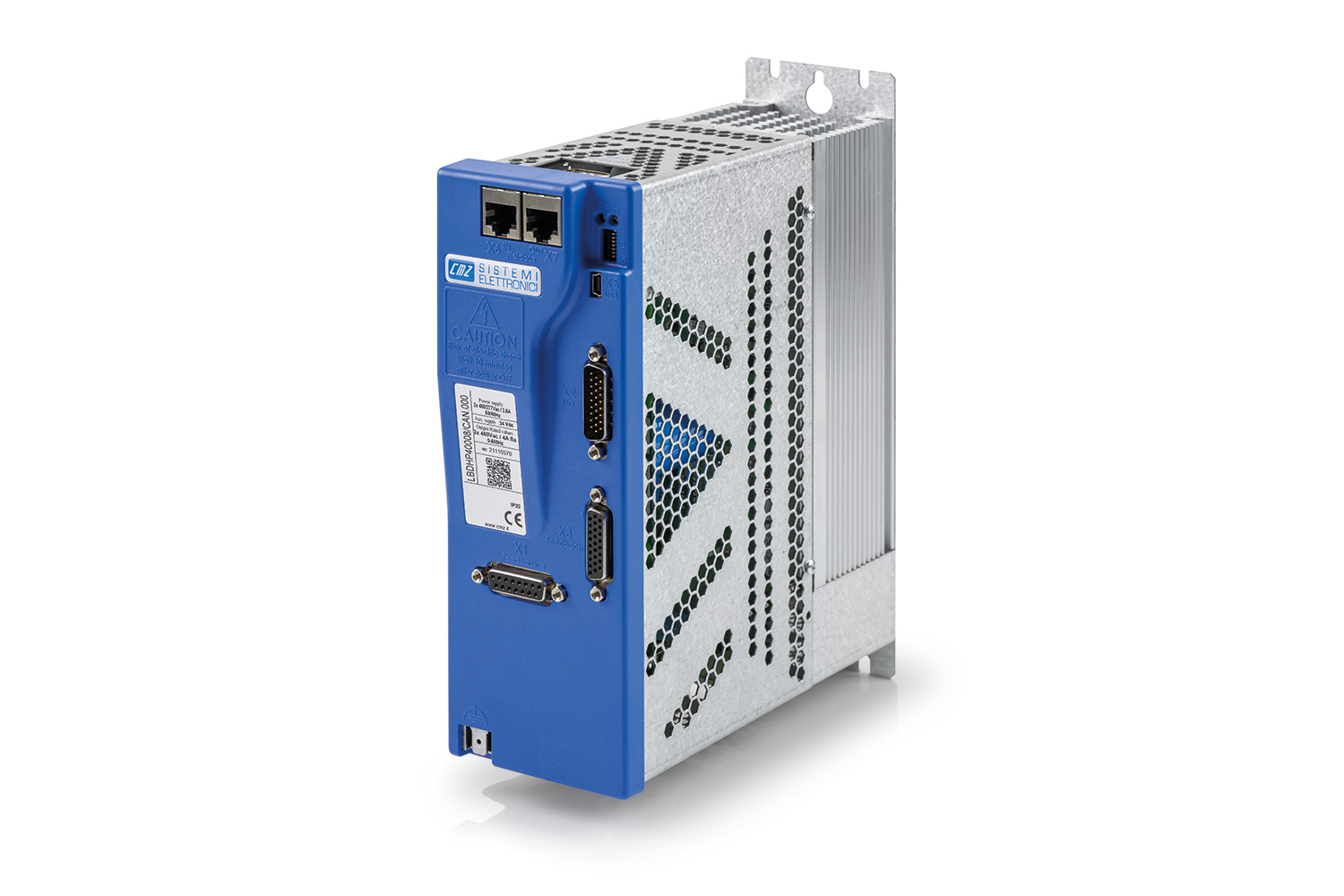 BRUSHLESS DRIVE STAND ALONE LBD 400/23O 
LBD400 is a three-phase stand alone brushless drive.
LBD230 is a single-phase stand alone brushless drive.
It is extremely compact, reliable, high performing. In combination with brushless motors, it is a very suitable solution for applications on automatic machines requiring a strong kinematic performance.
The system is equipped with standard safety functions STO  SIL3 level.
Also available interfacing analog inputs and stepper motors simulation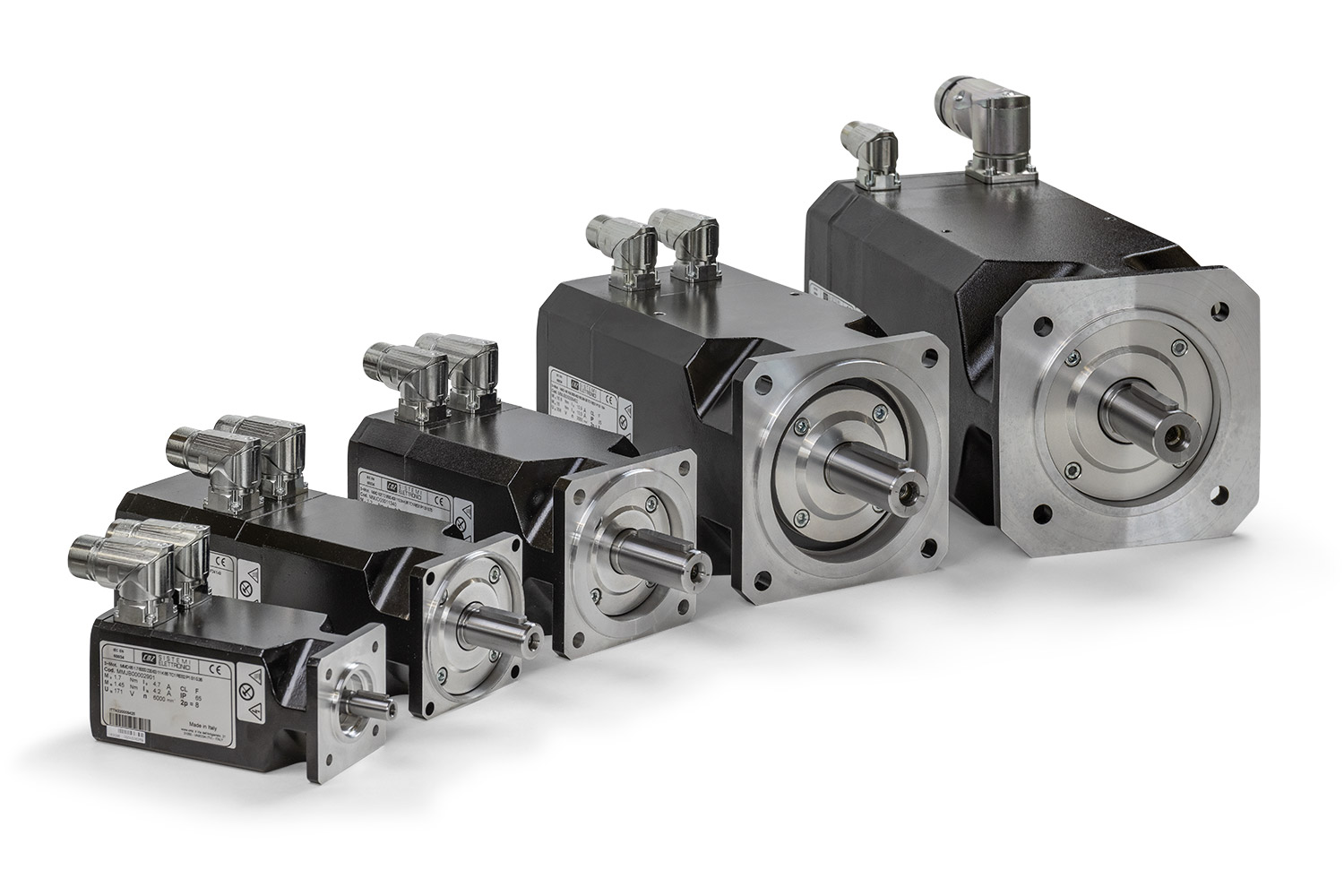 SERVO MOTORS BRUSHLESS
The models are available with stall torque from 0,5 to 120 Nm. They can be supplied in versions 400 Vac and 230 Vac.
RPM 1500, 2000, 3000, 4500, 6000.
Number of poles: 8 / 10 / 6 sinusoidal, depending on the model.
Resolver or absolute encoder hiperface connection.
Brake also available.
IP65 standard. IP67 on request.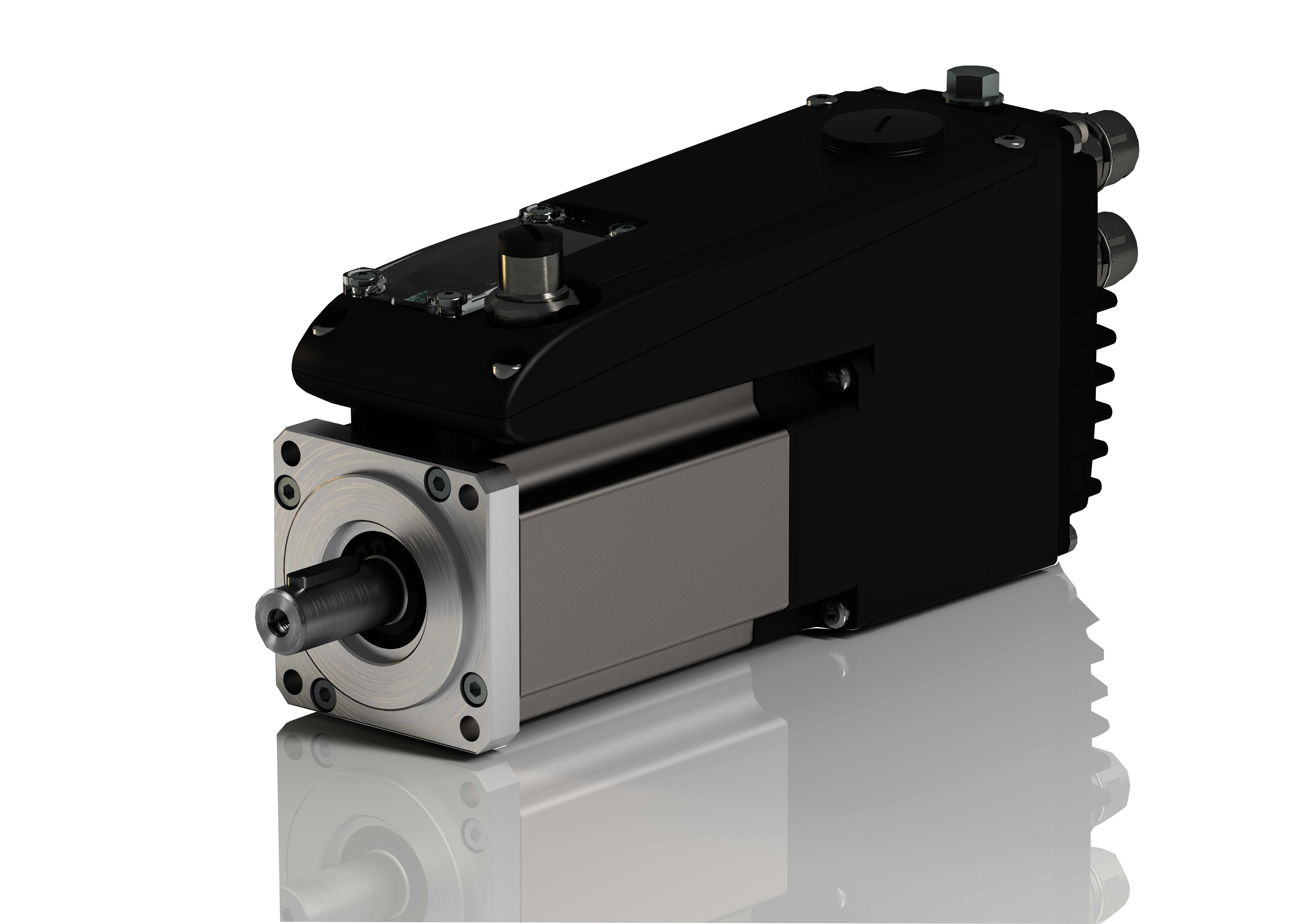 BRUSHLESS DRIVE INTEGRATED IBD
IBD drive with integrated electronics and IEC 61131 programmability offers maximum control and power in a compact space.
With the decentralization of the drive directly on the motor, the machine architecture is simplified: reduced wiring, more linear machine design, optimized and increasingly efficient processes.
Each model can be developed with solutions designed upon the specific project of the manufacturer, considering both electronics and mechanics.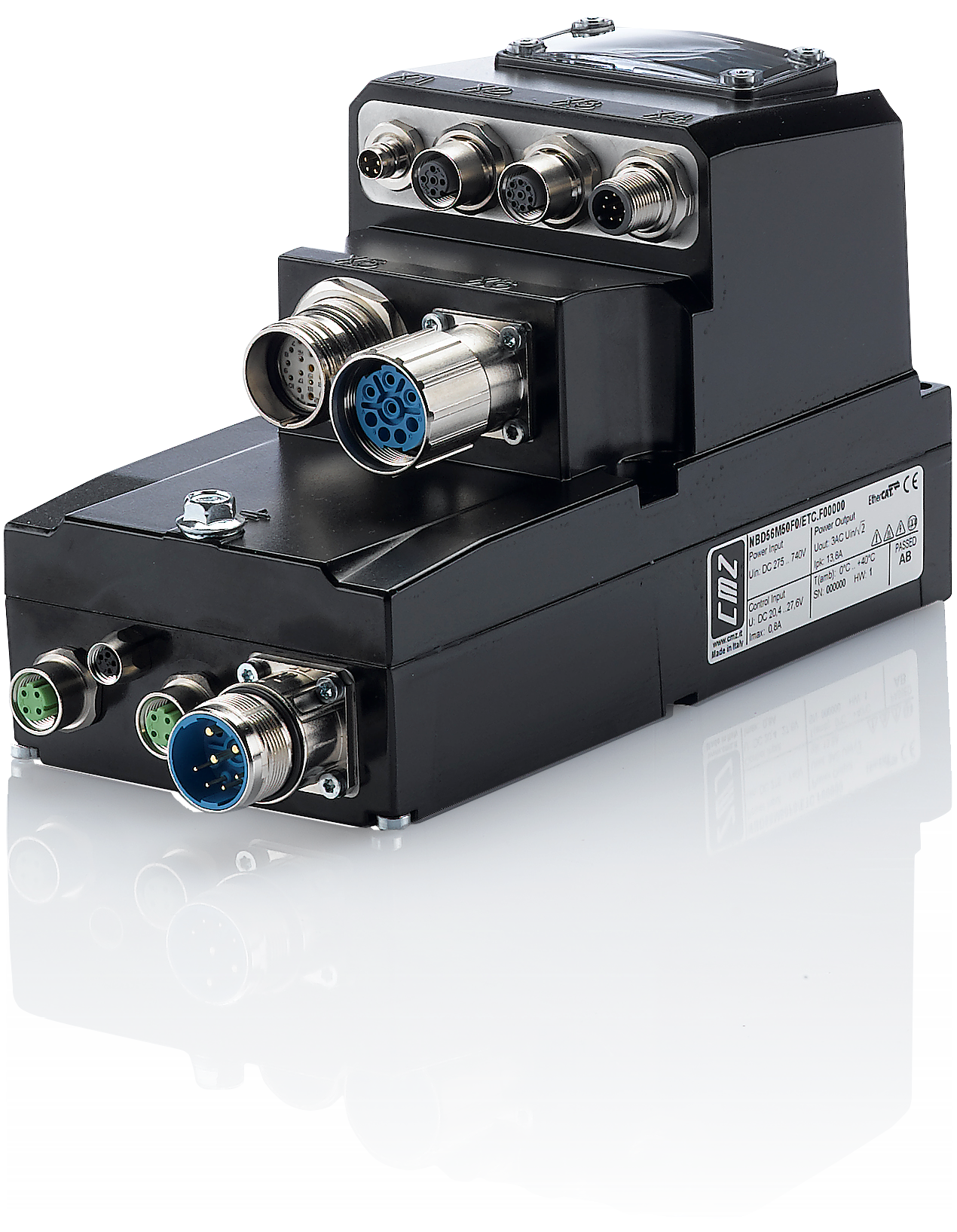 BRUSHLESS DRIVE NEAR BY  
NBD nearby drive allows the management of servo motors with resolver, incremental encoder, incremental encoder with hall sensor, absolute encoder HIPERFACE.
IP65 protection makes possible to install NBD drives near the motor, directly on the mechanics of the machine.
The fieldbuses CANopen DS402 and DS402 over EtherCAT allow NBD to be used both with CMZ FCT controllers and other differentbranded controllers using CODESYS 3.5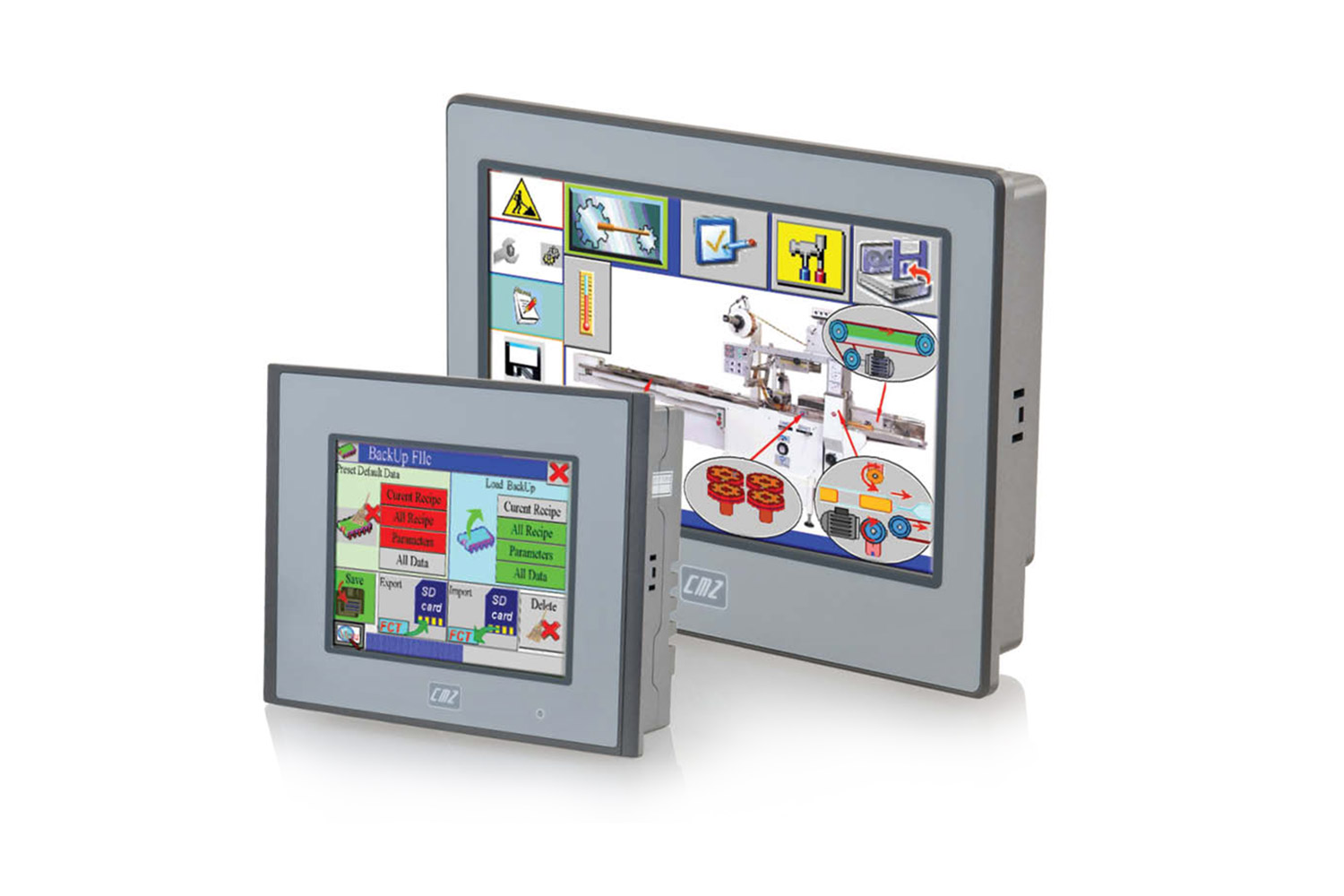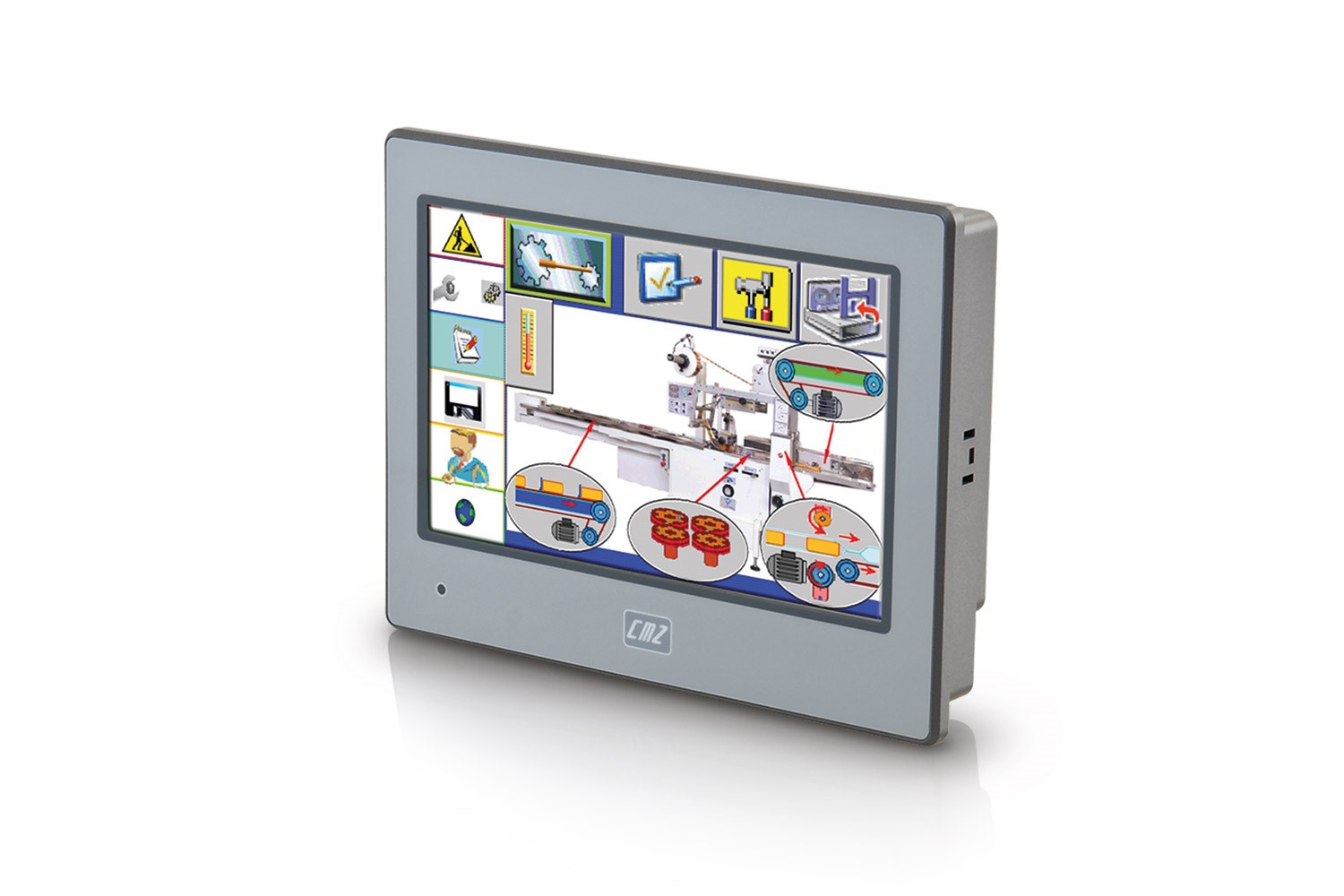 OPERATOR PANELS HMI 
HMI operator panels of PT2 series are full part of CMZ range.
They provide optimized features upon Industry 4.0, IoT (Internet of Things) and IIoT (Industrial Internet of Things).
PT2 series is made of 7 touch screen terminals models from smallest to biggest, from 4,3" up to 15". IP66.
They can be connected with CMZ controllers and the maincontrollers on the market as well, thanks to standard or dedicated protocols.
PT2 panels are usable with PM PANEL MASTER DESIGNER development environment (V2.1.9.46 or later versions) very simple and intuitive in programming and realizing HMI's functionalities and GUI (Graphical User Interface).
On request we can provide PANEL EXPRESS software based on PC platform.
¿Te interesa una cotización o información?
Te invitamos a conocer todos nuestros servicios y lo que podemos hacer por tu empresa.